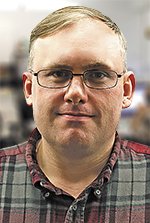 Keith Lobdell
South Bureau Editor
518-585-9173 Ext: 111
Keith Lobdell returned to the Valley News in December of 2010 after spending four years as a reporter with the Whitehall Times. Lobdell previously worked at Denton Publications from 2000-2004. He lives in Westport with his wife and three children.
Recent Stories
Peru 59, Franklin Academy 6
It took the Peru Indians a total time of 1:48 seconds with the ball to make their statement against Franklin Academy Nov. 8.

The Chazy Eagles punched their ticket to the NYSPHSAA Class D Final Four with a 3-0 win over Section X's Lisbon Nov. 7.

In a game that saw few opportunities on frame, the Chateaugay Lady Bulldogs were able to find the difference maker in the first 10 minute overtime for a 2-1 win against Chazy Nov. 7 to advance to the Class D final four.

In what has become the annual matchup between arguably the two best coaches in Class D boys soccer, McAuliffe and the Chazy Eagles again claimed the Section VII/Class D boys soccer championship with a 0-0, 5-3 penalty kick win against Buehler and his first-year Elizabethtown-Lewis/Westport Griffins.

The Eagles dominated the sectional playoffs, allowing only one shot from an opponent in the 67th minute of the final game. The shot was not on goal.

There's no better time to score your first win of the season then when a loss means its over.

NAC girls, LPCS boys atop C tables
The Section VII playoffs are set to begin in classes B, C and D with some familiar faces at the top of the tables.

The Beekmantown back ran for 265 yards on 25 carries, scoring four times on the ground and adding one more on the receiving end of an Alex Archer 26-yard pass in a 33-20 win Oct. 10.

This time, it was the Chiefs of Saranac scoring a 43-7 win over the AuSable Valley Patriots Oct. 3.
Neither Saranac Lake or Ticonderoga were able to manage more than 155 yards of total offense, but the Red Storm was the beneficiary of the longest play of the game, a 39-yard strike from Tristin Fitzgerald to Ty Marmion in the third quarter to give the team a 7-0 win over the Sentinels. Sept. 26.