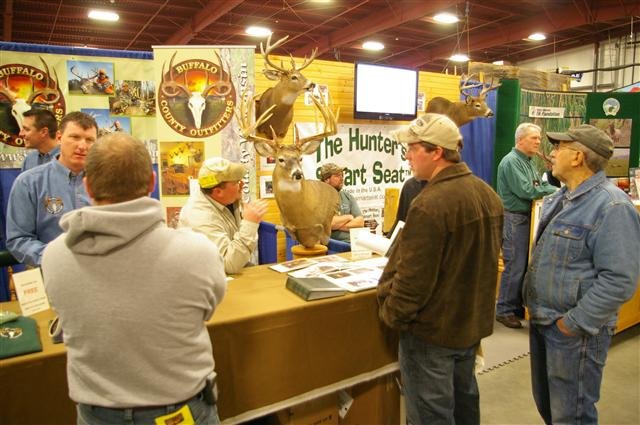 Essex Junction — Nineteenth-century frontiersman, scout, hunter, and fur-trapper Hugh Glass probably could have learned a thing or two by visiting the annual Yankee Sportsman's Classic Show held at the Miller Expo Center in Essex Junction.
In August 1823, while hunting for food as a scout for the overland Henry Expedition, along the Grand River in what later became Dakota Territory, an angry momma grizzly bear charged Glass and nearly mauled him to death. Left to die in the wilderness by his companions, Glass eventually crawled and limped his way more than 200 miles to the safety of Fort Kiowa.
Early on, during the bloody odyssey, Glass rested his mauled, oozing back on a rotting log for two days. He wanted maggots to consume his dead flesh as a means to prevent gangrene.
Now if Glass had attended the hunting and fishing presentations at the Yankee Sportsman's Classic Show, he might have learned, first, that you can be easily rid of a ticked-off momma grizzly with a few sprays of UDAP Magnum Bear Spray—a highly condensed mixture of pepper spray-in-a-can with a range of 20 feet; it's the world's best guarantee to ward off any bear attack. It's certainly better than fumbling with a muzzleloader or a Bowie knife. But then, Glass never heard of the Yankee Sportsman's Classic Show let alone the Miller Expo Center. The old scout might have made good use of a selection of handheld GPS units in the field, too; they'll be on display at the annual Vermont outdoor show.
This year marks the 20th anniversary of the Yankee Sportsman's Classic Show—and the great American spirit of Hugh Glass, as well as every other outdoorsman to follow in his footsteps, will be celebrated. This 20th edition of the show will be held Jan. 18-20.

For three full days, the 100,000 square foot Essex Junction expo center will welcome an estimated 15,000 sportsmen and women—including youngsters—to revel in Vermont's hunting and fishing heritage.
(Continued on Next Page)
Prev Next
Vote on this Story by clicking on the Icon