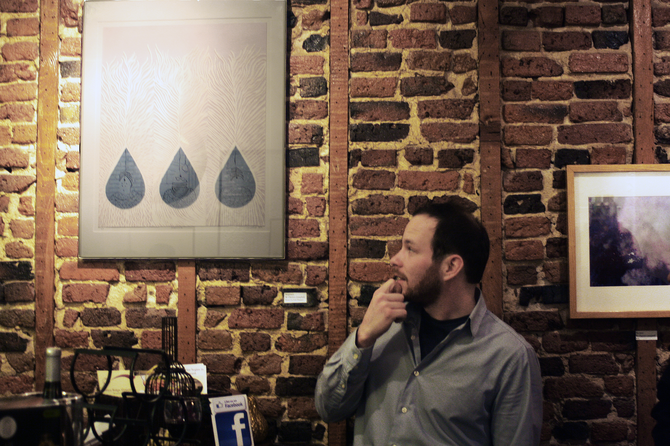 Plattsburgh — Clayton Campbell wants people who view his art to walk away feeling inspired.
Creating art, he said, is a privilege, and something everyone has inside them.
"If you leave here with something you didn't have before, some exchange is happening," Campbell said. "I feel like it's inert without a viewer. It's not living if no eyes ever see it."
On Saturday, Feb. 5, the Champlain Wine Company in Plattsburgh hosted an opening reception for Campbell.
The opening was the second installment of a new off-site gallery program sponsored by ROTA Gallery in Plattsburgh in an effort to connect local businesses to local artists.
Campbell's work includes nine prints and four nature-inspired photos.
Eight of the prints are monotypes and the other is linocut.
A monotype is created by putting a flat of ink on a piece of plexiglass. A shape is placed on the ink, so when it is run through a press everything but the shape is printed on the paper.
The ink must be given time to dry between each run to prevent different colors from blending.
Since the colors and shapes are put through the press one at a time, each monotype print is unique.
A linotype print is more like a stamp, and the image produced can be duplicated many times.
"It's a time consuming process," Campbell said. "In printmaking, there are all these different steps that coalesce to make the print. You're working with the paint, you're mixing the color, and later you're cutting out stencils or preparing the paper."
Campbell moved to Plattsburgh from Mississippi in September 2011 to participate in a student exchange program while attending Mississippi University.
He is currently finishing up a Bachelor in Fine Arts degree at Plattsburgh, and plans to continue making art after he graduates.
"This is absolutely what I want to be doing," Campbell said. "I came into that notion about six months ago. This is what I am into, this is what I want to share with others."
(Continued on Next Page)
Prev Next
Vote on this Story by clicking on the Icon