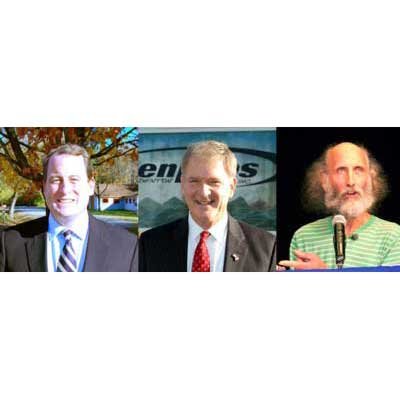 Denton Publications recently sat down with incumbent Congressman Bill Owens and challenger Matt Doheny to discuss several key issues that relate to the North Country, nation, and the 2012 election. We asked each candidate the same six questions and allowed them to respond. Here is some of what they had to say:
Bill Owens
After hearing from and speaking to people in the 21st District, list the top three issues people in the North Country are facing, in your opinion, and how you would address them:
Clearly the first thing that we hear about is jobs and the economy. We look at a couple of different elements. The first is the unfilled jobs in the North Country. The other piece of it is that we need to have some programs that would supplement wages. If they had a $12 an hour job and were offered an $8, they should be offered some transitional money to get it back up to the $12 range. I think that we need to continue to focus on Canada as a continued source of employment. One of the other pieces is to make sure that we are providing public funding to put broadband into the communities and improving broadband coverage in the communities.
The second thing is about our inability in Congress to get anything done. People are just very concerned that we are unable to have a conversation and reach a conclusion. From my perspective, I vote about 35-percent of the time with the Republicans. I am considered by the rating agencies to be a moderate.
The third topic that we hear a lot about is the farm bill. Those are the three things that I hear most consistently in the conversation. We need to pass the farm bill in the house so we can get it into the Senate, because in January we are reverting back to a 1930's statute — there is some concern for a truly unanticipated outcome.
(Continued on Next Page)
Prev Next
Vote on this Story by clicking on the Icon