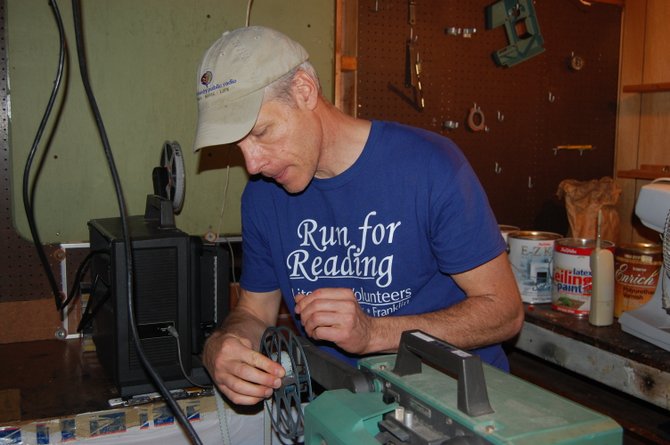 PLATTSBURGH — For Andy MacDougall, film is an organic experience.
And as Hollywood goes full digital and film is phased out, MacDougall is out to "save our friend."
He's been accumulating quite the film collection, holding his own film series for quite some time, and now he's embracing a lost tradition as a picture show man— a traveling film exhibitor.
"I have a traveling 16 mm picture show."
MacDougall's basement has been converted to three rooms devoted to film—one is a projection room; another a lab, filled with posters and film hanging from the ceiling; and the third is a theater and museum, with old projectors and film reels lining the walls, as well as film reference books and a t-shaped island of film posters leading to the screen.
"The film we are going to watch is an opening short, and they are not commercially available," MacDougall said as he navigated around film and surveyed various items, for no reason, seemingly, yet with a precision that indicated a purpose. "I have a number of them that are the only existing prints."
He owns the only prints to several oddball student films, inherited a 16 mm collection of war and original music videos, and came into vacation footage and travelogues, as well as skiing footage with a jazz score and a dog on the beach. There is also a film of the real mad men, taken from inside corporate headquarters, a puppet show and underwater footage.
"They are phasing out film," MacDougall said, exiting the room wallpapered with movie posters for the projection booth, where he manually rewinds a short.
"This will only take a few minutes."
Halfway through, he remembers his train of thought: "Cumberland 12 is down to only two theaters that still use actual film. I have become the new custodian of the collection."
(Continued on Next Page)
Prev Next
Vote on this Story by clicking on the Icon