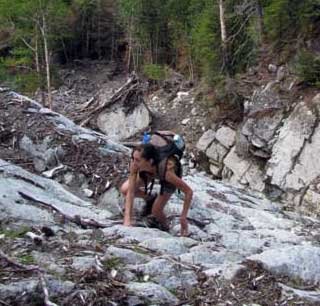 Nothing in nature remains static for very long, and this time of year the most obvious example of this is the gradual emergence of fall foliage.
Autumn is the ultimate seasonal segue, a bridge between extremes, and it is upon us. Everything in the forest is preparing for the big freeze, which has already started to descend upon areas in the Adirondacks and will soon be working its way into the Champlain Valley. The onset of winter, the result of the tilt of the Earth and its position in orbit, is a major change indeed, and the bold pallette of colors accenting our mountains and valleys is a local response to that planetary positioning.
In the fall, as plants stop making chlorophyll, the pigment that gives leaves their green color and enables them to perform photosynthesis, other pigments begin to emerge. In trees like birches, elms and poplars, those pigments are called carotene and xanthophyll, and they are responsible for autumn yellows and oranges.
Red autumn leaves, commonly found on maples, staghorn sumacs and red-osier dogwoods, are the result of anthocyanins. These pigments are produced in the leaf cells and cause leaves to turn bright red if the cell sap is acidic and purple if the cell sap is alkaline. When red and yellow pigments are both present, the leaves appear orange, as is oftentimes seen on maple leaves.
Yes, the smell of dying deciduous leaves means change is in the air, but in the mountains, change is always in the air, and in some places its mark is literally etched into the mountainsides.
Last August, Tropical Storm Irene wreaked havoc on the region, and reminded us of just how fast change can occur here, and how intense that change can be. After the flood waters subsided and towns and villages began rebuilding, it was estimated that about 28 new landslides had ripped paths into the High Peaks.
Shaun Kittle is a reporter at Denton Publications and an avid outdoor enthusiast. He can be reached at shaun@denpubs.com.
(Continued on Next Page)
Prev Next
Vote on this Story by clicking on the Icon