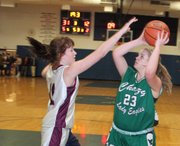 Chazy Lady Eagles basketball schedule
Tuesday, Dec 4... at Seton Catholic
Friday, Dec. 7... at Crown Point
Tuesday, Dec. 11...v. Westport
Friday, Dec. 14... at Wells
Monday, Dec. 17... at Keene
Wednesday, Dec. 19... at Schroon Lake
Friday, Jan. 4... v. Elizabethtown-Lewis
Wednesday, Jan. 9... at Willsboro
Friday, Jan. 11... v. Johnsburg
Thursday, Jan. 17... v. Chateaugay
Friday, Jan. 18... v. Keene
Thursday, Jan. 24... v. Seton Catholic
Friday, Jan. 25... at Minerva/Newcomb
Tuesday, Jan. 29... at Westport
Thursday, Jan. 31... v. Schroon Lake
Wednesday, Feb. 6... at Elizabethtown-Lewis
Friday, Feb. 8... v. Indian Lake/Long Lake
Tuesday, Feb. 12... v. Willsboro
Lady Eagles ready for new season
CHAZY — The Chazy Lady Eagles basketball program brings a unit that has experience playing together into the 2012-13 season.
The players will also be joined by first-year varsity coach Liz Garrand, who coached many of the current varsity players at the modified level.
"These girls have tremendous potential as they have been playing together for years," Garrand said. "Their love of the game is what will drive them to greater levels of play this season. I am excited to see what we can accomplish as we reunite."
Garrand said that the team will return five players from last season, when it finished 6-9, including two seniors, Caitlin Kozak and Michaela Calhoon. Juniors Andrea Meshefsky, Ashley Gilmore and Courtney Gilmore also return.
Chazy Lady Eagles basketball roster
Player Grade
Caitlin Kozak 12; Michaela Calhoon 12; Andrea Meshefsky 11; Ashley Gilmore 11; Courtney Gilmore 11; Bailey Stalker 11; Brianna Rotelle 11; Christine Pilon 11; Miranda LaBelle 11; Paige Garnot 11; Samantha Barcomb 11; Shelby Gonyo 11; Allison Tatro 9
Chazy boys varsity basketball schedule
Tuesday, Dec. 4... v. Lake Placid
Wednesday, Dec. 5... v. Seton
Friday, Dec. 7... at Crown Pont
Wednesday, Dec. 12... at Westport
Friday, Dec. 14... at Wells
Tuesday, Dec. 18... v. Schroon Lake
Thursday, Jan. 3... at ELCS
Tuesday, Jan. 8... v. Willsboro
Friday, Jan. 11... v. Johnsburg
Wednesday, Jan. 16... at LPCS
Friday, Jan. 18... v. Keene
Wednesday, Jan. 23... at Seton
Friday, Jan. 25... at MNCS
Wednesday, Jan. 30... v. Westport
Friday, Feb. 1... at Schroon Lake
Tuesday, Feb. 5... v. ELCS
Friday, Feb. 8... v. IL/LLCS
Wednesday, Feb. 13... at Willsboro
(Continued on Next Page)
Prev Next
Vote on this Story by clicking on the Icon