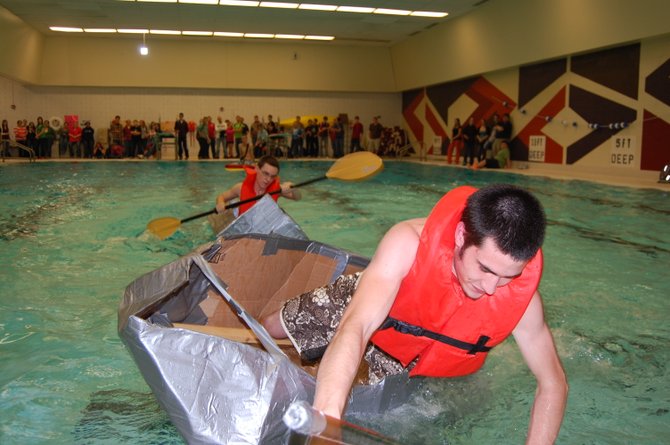 CHAMPLAIN — As soon as the Chazy Central Rural School student hit water, his boat imploded around him.
The student from Northeastern Clinton Central School sank only a few feet away.
But one student, in a small cardboard box covered in duct tape managed to paddle across the pool as his peers shouted "Dylan!"
"This is a problem-solving activities, and the students have limited supplies and most come up with the best possible design," said Northeastern Clinton Central School Technology Teacher Cole Moon. "Problem-solving is one of the biggest challenges people have to face in life."
Students from both schools built cardboard boats as part of their technology classes and then participated in boat races at Northeastern Clinton Central School.
"This is a team-building exercise," said Chazy Central Rural School Technology Teacher Kyle Syck.
As racers and pit crews entered the pool area, they lined their cardboard boats - some large, others small, and yet others with wooden and cardboard attachments to help them float – along the shallow end of the 45-feet by 75-feet 190,383-gallon pool.
They huddled for a safety meeting as Moon issued instructions.
"If you hear a whistle you are probably doing something unsafe. Every racer will have a life jacket. No standing."
A lifeguard sitting on a flotation device set up in the middle of the deep end of the pool.
Then, the doors opened, the noise increasing to a dull roar as spectators filtered into the pool area and surrounded three sides of the pool.
The first heat, consisting of four racers, placed their cardboard boats in, two immediately collapsing around the racers, a third sinking seconds after the race started and the fourth, carrying Dylan, crossing the finish line as students from both schools cheered.
As the third heat began, students in a giant boat paddled furiously, sinking a few feet from the edge of the pool.
(Continued on Next Page)
Prev Next
Vote on this Story by clicking on the Icon