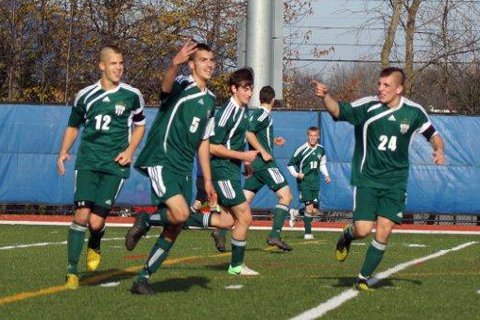 When something has "the look," you just have to stand back and appreciate what you are watching.
Such was the case with the 2012 Chazy Eagles boys varsity soccer team. From the start of the season, everyone could see that there was something different that would end up setting this team apart from the others.
In Chazy, that is a difficult thing to do, as the rest of Section VII measures success with Sectional banners and regional appearance, the Eagles measure them in plaques that resemble the state of New York (they really have to do something to make Long Island look better, though).
Hey, David Poitras even said it, they had to get their trophy back.
That is exactly what they did, rolling through every Section VII opponent save one (a 3-3 tie with Beekmantown that they won on penalty kicks, in our book making them 22-0-0, not 21-0-1). They then ran through the Sectional tournament, winning three games by a combined score of 25-2.
That got everyone thinking, is this the worse we have ever seen Section VII soccer? Is it that these other teams are so bad they just make Chazy look that good?
The answer was no. The Eagles then went on to beat Section X representative Heuvelton 6-0 to advance to the Class D final four in Middletown. Their first match-up was a 1-0 win against the only team the experts thought stood a chance to beat them, second-ranked Poland.
This game was not as close as the score sounds. Chazy dominated the shot chart, time of possession, possession in the opponents' end, corner kicks, 50/50 balls — everywhere in the scorebook and on the field. The only place they didn't have an edge was saves, as Poland keeper Mitch Jones single-handedly kept his team in the game making saves that no other goalie has made against the Eagles. Despite a drastic miscue on his part, Jones was in no way the blame for that loss.
(Continued on Next Page)
Prev Next
Vote on this Story by clicking on the Icon