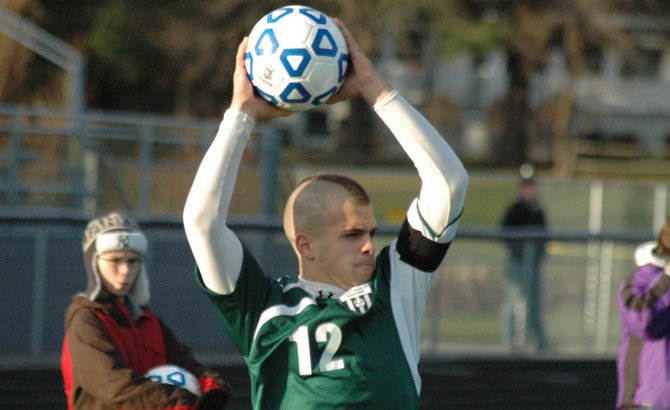 Middletown — Mitch Jones played the game of his life, with the exception of a few seconds.
In the NYSPHSAA Class D semifinals Nov. 17, the Poland Tornadoes keeper kept the Chazy Eagles off the board for 64 minutes, including a save on a Brandon Laurin direct kick in the 65th minute.
It was what happened next that sent the Eagles to the state championship game with a 1-0 win.
Jones, looking to control the ball, lost it as the ball went out of his hands and landed in the net.
"I took the shot and turned around to defend," Laurin said. "All of the sudden, I heard someone yelling, Brandon, and I looked back and saw that the ball was in the net. I just freaked out. Happiest moment of my life."
"He played a great game and I feel bad that was the goal that won it," Eagles head coach Rob McAuliffe said. "You take the goal that you can get, but it's unfortunate for (Jones."
It was a goal that, based on the situation, very few people saw, with many in the press and on the sidelines asking what happened along with several players.
"I had turned and all of the sudden everyone was yelling and pointing," Nathan Reynolds said.
"I was tracking down the field and all of the sudden I hear cheering," stopper Justin Brothers said.
Jones finished with 13 saves, while Kyle Bissonette recorded a pair.
In a match-up between the top two rated teams in the state, the Eagles came out with a overpower offensive attack, putting 10 shots on goal and forcing four corner kicks, compared to three shots and three corner kicks for Poland.
"We knew that if we came out focused we could play our game and play well," Laurin said. "I was not surprised that we dominated that much, I was pleased that it happened."
(Continued on Next Page)
Prev Next
Vote on this Story by clicking on the Icon