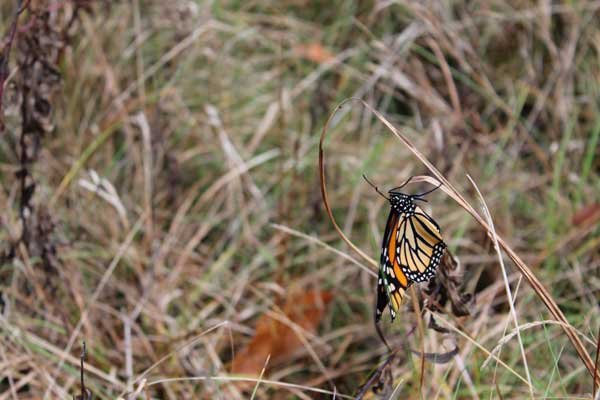 Winter comes with little warning in the North Country. The season hits fast, like a match strike, and it burns slowly with the steady luminescence of all the whites, blues and grays the cold has to offer. It seems that just yesterday I was exiting the forest under the warm and brilliant twilight of 9 p.m., but now the days are short and night always seems close by, creating long shadows in the mid-afternoon as it hovers over us, its round yellow face grinning from the dark infinity of outer space.
At Point au Roche the meadows and forests are preparing accordingly—they have hunkered down, ready for the Big Freeze. The wind, now unimpeded by foliage long fallen, will soon push through the naked vegetation like water passing through a sieve. Tree branches will crackle in response, coyote tracks will be reduced to powder as quickly as they are made, and Lake Champlain will heave with ice and broken timber.
But for now, all is calm.
I visit this place almost every week, sometimes sticking to the trails and other times foraging a path between them. I know the blue jay on Long Point well—he emits a hawk-like shriek at me every time I enter his meadow hangout. And the belted kingfisher, the one that snatches fish from the great open wetland near the bike path, is not a stranger, either. I love that I can visit this place when the days are short and never have to worry about running out of time. I love that I can visit after working all day in the summer and still get to be outside for a couple of fleeting hours. There is a lot to love here, and a lot to see.
Along the trail to Middle Point I often take the right hand path, following its descent into a primeval forest of vine-draped white cedar. Unlike other areas at Point au Roche, this place looks nearly the same year-round. The vines hang like bloated serpents and the understory, even in the middle of summer, is almost non-existent, so when the snow finally penetrates the splayed leaves of the cedar boughs it simply turns the forest floor's summertime brown to white.
Shaun Kittle is a reporter at Denton Publications and an avid outdoor enthusiast. He can be reached at shaun@denpubs.com.
(Continued on Next Page)
Prev Next
Vote on this Story by clicking on the Icon