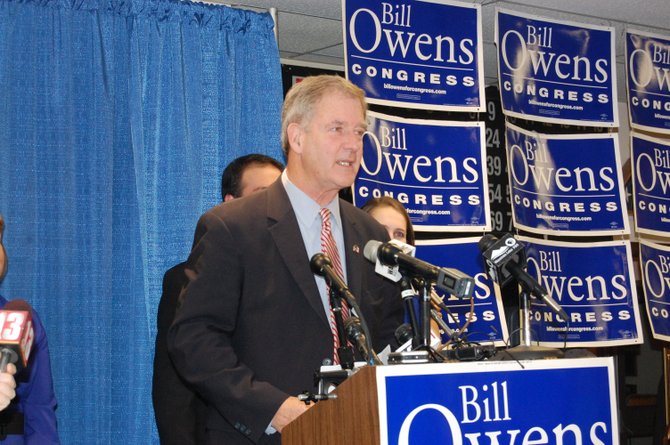 PLATTSBURGH — Incumbent U.S. Rep. Bill Owens (D-Plattsburgh) was elected to a third term in a tightly contested race against Republican opponent Matt Doheny on General Election Day, Nov 6.
Owens, a longtime local Plattsburgh attorney, won with 50 percent of the vote compared to Doheny's 48 percent. Third party candidate Donald Hassig — who was denounced by the Green Party following comments he made at a candidate forum in mid-October and then later threw his support behind Owens — siphoned off two percent of the vote.
Reached for comment in Watertown following the balloting, Doheny spokeswoman Laura Chambers said Doheny will follow the absentee ballots but said he was officially conceding the race.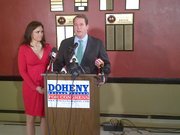 She said he is not ruling out another run in the future.
With 93 percent of the voting districts reporting, the balloting stood at 106,489 for Owens and 103,059 for Doheny.
Bill Owens arrived at American Legion Post 20, the Democrat headquarters in Clinton County, shortly after midnight to loud applause. He walked up to the podium and said, "About three minutes ago, Matt Doheny called me to concede."
"A tremendous amount of work went into this," he told the crowd assembled. "So many folks went above and beyond. As you go through this process, you certainly learn a lot, and my education continues."
"I will continue to represent you from the ground up. We need to bring the middle class up," he said, noting that President Barack Obama won a second term in office.
"I hope this causes us to come to rationale compromise and next year we do things that are a benefit to us all. We need to make sure we are lifting all of us up so all of us are doing better two years from now. We need rational compromise. I will reach across the aisle and forge compromises that make sense."
(Continued on Next Page)
Prev Next
Vote on this Story by clicking on the Icon