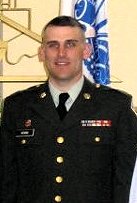 Port Henry — A local soldier has been killed in Aghanistan.
Dain Venne, age 29, of Port Henry was killed along with two other U.S. soldiers by a roadside bomb in Afghanistan last week. His family was notified Saturday, Nov. 3.
Venne was with the U.S. Army 10th Mountain Division headquartered at Fort Drum, but reported to the Canton-Oswego U.S. Army Reserve Training Center. He had completed one tour in Iraq and was serving one in Afghanistan.
He is the son of Brian and Laura (Harris) Venne. Brian Venne is Moriah town justice and a former town trustee. Laura Venne is a teacher at Moriah Central School.
"It's a sad day in the town of Moriah," Supervisor Tom Scozzafava said. "Our hearts go out to the Venne and Harris families. Dain was a true hero; one of the nicest guys you'll ever meet. He was repected by the entire community. It's a horrible, horrible tragedy.
"It's a sad day for the entire community," he added. "When tragedy strikes Moriah comes togther and we will now. Moriah is a family."
Scozzafava said all flags in the town and village of Port Henry will fly at half mast in honor of Venne.
In 2011 Venne received the Firefighter Commendation Medal from the Port Henry Fire Department for his life saving actions while rescuing several stranded victims during Tropical Storm Lee. His father, Brian Venne, accepted the award on his behalf to a standing ovation since Venne was serving in Afghanistan.
"He was an outstanding firefighter, a perfect gentleman," said Jim Hughes, Port Henry fire chief. "It's a reflection on his family how he carried himself, very respectful to his fellow firefighters. You couldn't ask for a better person, better son — an outstanding, overall good and decent human being. He took an interest youth, sports and education. He worked with kids and I was very impressed that he could reach out to a young mind and make an impression. He had an ability to teach and educate."
(Continued on Next Page)
Prev Next
Vote on this Story by clicking on the Icon