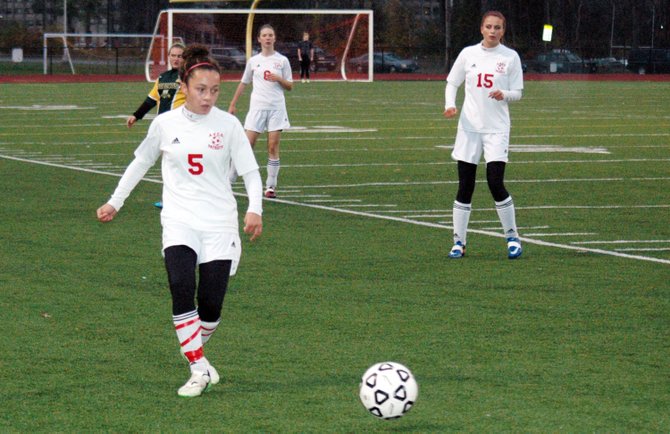 Plattsburgh — Going into halftime, the AuSable Valley Lady Patriots knew they were off.
They had controlled the tempo of the game throughout the first 40 minutes of the Section VII/Class C girls title game Nov. 1 against Northern Adirondack, but were locked in a tight, 0-0 contest.
Photo Gallery
Class C girls soccer final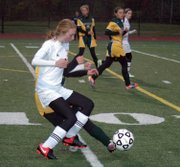 Pictures from the Nov. 1 Section VII/Class C girls soccer final between the Northern Adirondack Bobcats and AuSable Valley Patriots
The Lady Pats figured it out during the intermission, scoring three times in the final 40 minutes while holding a 15-4 overall shot advantage and forcing 14 corner kicks compared to one for the Lady Bobcats in earning the 3-0 win.
"Coach talked about us working harder and working together as a team," Meghan Strong, who scored the first goal of the game in the 54th minute, said.
"We were not really connecting in the first half," captain Rachel Knapp said. "We had good chances, but we were just not able to finish. We knew how important this game was and that we needed it to click in the second half."
"We really didn't do what we wanted to in the first half," head coach Bruce Bourgeois said. "We knew that NAC was going to come out and hustle, but we knew too if we could get the ball deep, then we would pin them back on defense."
That was exactly what happened to start the second half, as the Patriots controlled play for the first 14 minutes. In the 54th minute, Knapp hit her second consecutive corner kick on an offensive attack for the Pats, arcing the ball high in front of the Bobcats net.
"All I was looking for was a head to come up and strike it," Knapp said.
That head was Strong's.
"It was a beautiful ball and I tried my best to get it right on goal," Strong said. "It was a very important goal. That is what got our spirit up knowing that we could score."
(Continued on Next Page)
Prev Next
Vote on this Story by clicking on the Icon