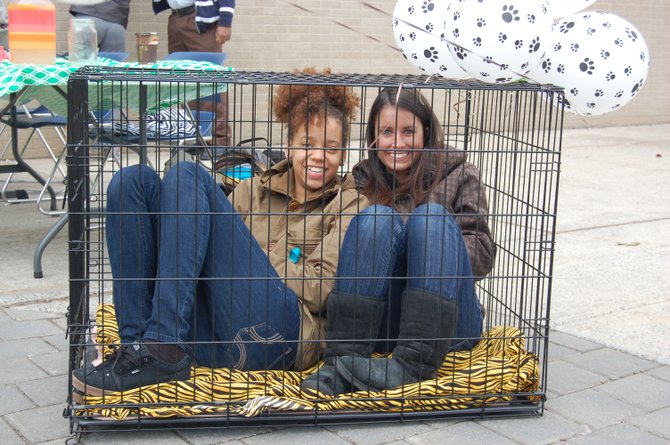 PLATTSBURGH — Erik Boe sat hunched in the cage, knees drawn up near his chest, laptop open as a cold wind whipped through the metal bars.
His peers passed by, saying little, though some stopped and offered money to keep the Plattsburgh State junior locked up in Amite Plaza outside the Angell College Center.
A few people stopped to take pictures as he shivered in the cold, and at least one student set up a camera to capture the event, perhaps to later post online.
"You gotta do what you gotta do," Boe said matter-of-factly, and what he had to do that day was raise awareness and money for the Adirondack Humane Society in Plattsburgh and the thrift shops that support it.
"There are a lot of feral cats and dogs and the Humane Society does almost everything it can to help them," Boe said. "We just want to get the word out and raise awareness and money."
As part of the public relations campaign, the students held a raffle, and those passing by could donate money to get students out of the cage or keep them in longer.
"They need a new shelter," said Jennae Jones, a Plattsburgh State student. "It is overrun at this point and they don't have enough cages or shelter. We want to make them more comfortable."
The Adirondack Humane Society shelter opened its doors in 1998 at the former Air Force kennel, which, at the time, was a prime location and already had large kennels and a space for cats.
The nonprofit relies on donations of both time and money, and in order to maintain a certain level of care developed the Cause for Paws Thrift Store. In 2009, the shelter opened a second thrift store, Not Necessarily New, which is across the street from the first one.
(Continued on Next Page)
Prev Next
Vote on this Story by clicking on the Icon