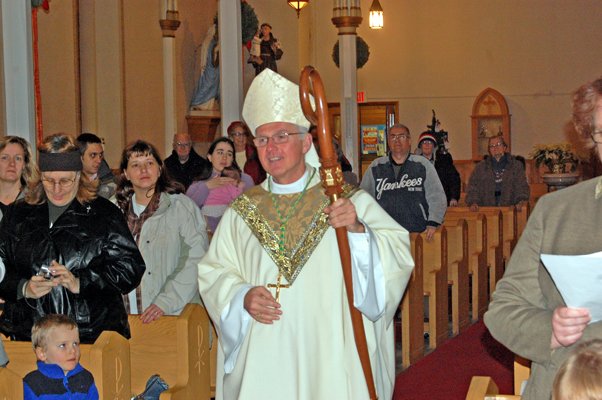 Champlain — The Most Rev. Terry LaValley tried to visit all the Catholic schools and spend time in the classroom.
"It is a good opportunity to share my own faith and listen to them," said the bishop of the Roman Catholic Diocese of Ogdensburg.
"I like to hear how God is working in their own lives."
The bishop recently spent time at St. Mary's Academy, visiting the pre k-6 grade school after conducting Friday Jan. 6 children's mass at St. Mary's Church in Champlain. LaValley spent time at the school as part of his tour of parochial schools in the Ogdensburg Diocese.
"He is in charge of the Diocese and schools are one of his priorities," said Sister Marie Cordata, principal of St. Mary's Academy.
She said LaValley makes it a point to visit the schools. He is a hands-on bishop and wants to be in touch with children and the people of the parish.
"He is a great proponent of Catholic schools."
Pat Gladd has been a member of St. Mary's parish since birth. LaValley's visit was a big deal to her.
"It is such a great thing."
She said it was especially good for the children.
"It all starts with family, and he wants to enlighten children and keep them coming back," Gladd said. "It is all about keeping them coming back and showing unto your neighbor what Jesus was all about.
"He (LaValley) just reaches your soul and is a true disciple of God."
Heather Chateauneuf has wanted to meet LaValley ever since learning about him last year. The fifth grader has been intrigued by the bishop and was excited he was visiting her school.
"It's so cool," said the fifth grader at St. Mary's Academy. "When he first became bishop last year we learned about him.
She and other students attended the Friday's children's mass, singing with the chorus and listening intently as LaValley led the service.
"I'm excited that he is here," Chateauneuf said.
For LaValley, it is all about the children.
He looks forward to his visits to the schools and his time in the classroom with students. LaValley's visit will take him to parochial schools throughout the Ogdensburg Diocese.
"The youth of our church are wonderful," he said. "It is important I am with them to share with them and learn from them."
Vote on this Story by clicking on the Icon