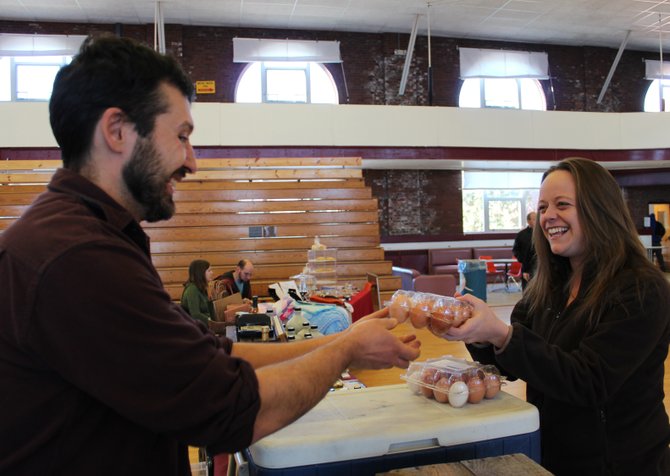 PLATTSBURGH — Summer is long gone in the North Country, but the Plattsburgh farmers market is still going strong.
Unlike its warm-weather counterpart, the winter market is held indoors, at the City Recreation Center at the Old Base Oval in Plattsburgh.
"We are a producer only market, which means everything for sale here is produced locally," said Beth Spaugh, owner of Rehoboth Farms and organizer of the winter market.
Spaugh said fresh salad greens are offered all winter long at the market, where a wide range of goods are available.
Vendors include Rehoboth Homestead, Asgaard Farm, Creative Custom Candles, Stone House Vineyard, Underwood Herbs, Adirondack Specialty Foods, The Skinny Baker, Katie's Creations, Parker Family Maple Farm and Woven Meadows and Farm.
Rhonda Butler and David Brunner, owners of Asgaard Farm in Au Sable Forks, offer a sampling of their farm's products at the market, which includes grass-fed beef, goat cheese, sausage, soap and caramels.
There is variety there, but Butler said it all goes back to one animal.
"Everything on our farm is related to goats," Butler said.
But she didn't stop there. Soon Butler realized that, by utilizing the animals effectively, she could have a fully functioning farm.
"Goats and cattle are very complimentary feeders," Butler said. "The main advantage is they clean the fields for one another."
Butler explained that goats can safely ingest the parasites that harm cows, and vice versa.
In addition to ungulates there is also a bright yellow chicken coop, which is now festooned with holiday decorations, that is on wheels for easy relocation.
About four days after the cows move through the fields the chickens, and their coop, follow, picking protein-packed insect larva out of the manure.
After the chickens are finished, the goats return and the cycle begins again.
By rotating livestock in this manner, Butler and Brunner can keep their animals healthy without using pesticides.
(Continued on Next Page)
Prev Next
Vote on this Story by clicking on the Icon