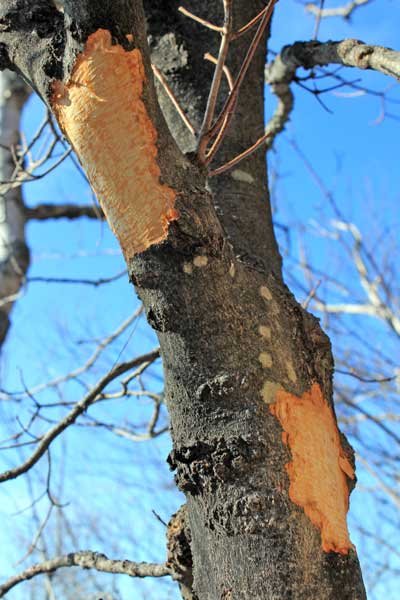 The first time I set out to hike Jay Mountain a few years ago I remember thinking that if it hadn't been for the cars parked along the shoulder of the road, I would have driven right past the beginning of the unmarked, unmaintained trail. Since then I have visited Jay in every season, and probably at least 10 times, and I have never been the only one on the trail.
In early November I learned the DEC had created a new, marked route to Jay's summit ridge, and I had to check it out to see if a new path up an old, local favorite could stand up to its predecessor.
The new route begins about 300 feet north of the start of the old herdpath, near the intersection of Jay Mountain Road and Upland Meadows Road in the town of Jay. The parking area, which can accommodate five cars, now sports a big brown sign with yellow letters, making it all but impossible to miss. Mileage to Jay's western ridge isn't indicated on the new sign, but the DEC calls it two-and-a-half miles, which adds a mile to the hike.

The new path starts off at a gentle grade and never really gets steep, not by High Peaks' standards, anyway. Gone is the steep, eroded pitch that ascends straight upslope through a red pine forest. Gone too is the short stretch of open rock about three quarters of the way up the shoulder of Jay. I do miss that last section, as I enjoy any exciting change of scenery that involves rock scrambling, but there is plenty of that to be had elsewhere in the High Peaks.
The trade-off in diverting the trail around these sections is that the new path is laden with switchbacks and is therefore much easier, no matter which way you're going. As one fellow hiker commented: "It's a lot easier on the legs going up and a lot easier on the knees coming down." True and true.
Shaun Kittle is a reporter at Denton Publications, editor of North Country Living Magazine and an avid outdoor enthusiast. He can be reached at shaun@denpubs.com.
(Continued on Next Page)
Prev Next
Vote on this Story by clicking on the Icon