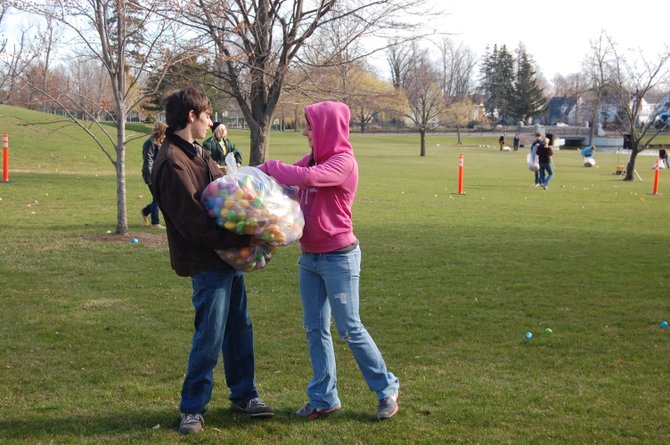 PLATTSBURGH — They were the calm before the storm, spreading multi-colored eggs across the grass that were quickly swept up by a wave of eager children.
They volunteered for the task of laying out the Easter eggs, which took them much longer than it took the children to grab them up and stuff them in their buckets.
But they didn't mind, because this was another opportunity to give something to the youth of the community.
"I love it," said Angelica LaBombard, a local student and member of Plattsburgh State's Upward Bound program.
The Upward Bound students converged on CVPH Medical Center April 7 for the hospital's annual Easter egg hunt, which is sponsored by the Foundation of CVPH/Auxiliary. The free event was open to children in second grade and younger.
Starting in January, volunteers stuffed 10,001 plastic eggs with chocolate, which Upward Bound students and others spread on CVPH's front lawn on Saturday morning.
"The kids do community outreach (projects), and this is one of them," said Elizabeth Green, assistant director/counselor coordinator for Plattsburgh Upward Bound.
Upward Bound is a federally funded educational program that was launched in 1965 after the enactment of the Higher Education Act of 1965. The year-round program is implemented and monitored by the United States Department of Education with a goal of providing certain categories of high school students with better opportunities for attending college. The program concentrates on students from modest income households and/or those whose parents are not college graduates.
The program works through individual grants and provides students with academic enrichment, counseling and leadership opportunities through high school graduation.
Upward Bound has operated locally since 1966, serving high school students in Clinton, Essex and Franklin counties.
Besides college visits, workshops and a summer program, students participate in community outreach to develop lifelong skills to help others.
(Continued on Next Page)
Prev Next
Vote on this Story by clicking on the Icon