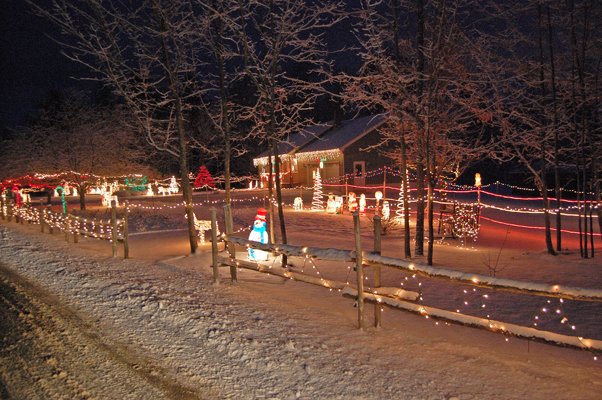 Mooers — Roger Favreau may be 76, but he still believes in Santa Claus.
And he goes all out with his holiday spirit, this year winning the Town of Mooers Christmas Lighting contest.
"I love Christmas, and I love people going out and looking at my decorations," said Favreau, whose home is located at 304 Garrand Road. "I love to decorate for the community."
That's good news for Mooers, which, since its bicentennial in 2004, has been looking for ways to make the community more attractive.
"We wanted to get the town looking better," said Scarlett Sample of the Mooers Beautification Committee. "We have banners that we fly and lighted Christmas lights and a Welcome to Mooers sign that we put up.
"We are trying on a limited budget."
Residents registered at the town office for the contest, which was almost cancelled this year but continued due to the high turnout.
"It just kind of gets people in the spirit of Christmas, gets people more festive and makes the community look nicer," Sample said.
Residents began decorating their homes as early as Thanksgiving.
"We have been decorating ever since I can remember," said Steve Bulriss, whose home on 431 Route 22 won second place. "At least 35 years or so, just for the fun of it."
He enjoys Christmas and making people feel happy when they look at his home lit up in the night.
Each year when he is outside decorating, people stop by and tell him they appreciate his holiday spirit and Christmas lights.
"It's just a fun thing to do," Bulriss said.
Mike Reeves won third place, and honorable mentions were Harry Gonyo, Eric Bulriss and Shawn and Missy LaValley.
"We hope even more people will join the contest next year," Sample said.
She can count Favreau in.
"He does such a good job," Sample said. "His whole yard was decorated."
"I've been doing this ever since I have been here, for 18 years," Favreau said. "I did it at my other house in Champlain."
Favreau said he loves Christmas.
"I am still a believer in Santa Claus even though I am 76."
Vote on this Story by clicking on the Icon