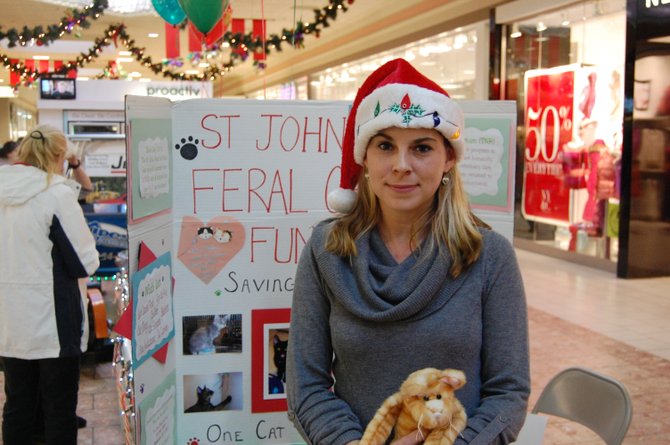 continued — "In 2004 we incorporated and became a non-profit," St. John said. "I operate out of my house, and we have four board members."
St. John Feral cat Fund is not a shelter.
"I don't believe in shelters," St. John said. "It's like a prison, where you hold animals in cages until they can be adopted."
Instead, the Town of Plattsburgh resident uses foster homes for a short time frame and "better adoption."
"I think I have taken one cat back in 10 years."
The non-profit advocates non-lethal feline population control and raises awareness by providing the public with information on feral and stray cat issues, including controlling populations within colonies through Trap-Neuter-Return. Under that management plan, stray and feral cats living outdoors are humanely trapped, evaluated, vaccinated, sterilized and ear tipped for identification by veterinarians.
"We are adoption partners with PetSmart," St. John said.
She receives 75 to 100 complaint calls in a week. She fosters constantly, but it is more than she can handle. St. John works seven days a week, with little time for friends beyond cats. There are some volunteers but no paid employees.
"We just keep going from problem to problem," she said. "We can't catch up and are constantly doing fundraisers."
The toughest part of the job is walking away from situations that are legal but not ethical, such as when she came across 17 dogs chained to barrels. Of course, St. John doesn't believe in leash laws.
"Go chain your kids up," St. John quipped. "Why are we chaining something?"
The reward is taming a feral cat, connecting with it and offering the animal a chance at happiness.
"You do what you think is right," St. John said. "But we can only do so much."
Vote on this Story by clicking on the Icon